Wettenhalls' history dates back to the formation of Amezdroz and Menzies (A&M) in Colac, Victoria in 1925.
At that time we had one truck and one customer. Since then the Company has continued to grow and build on our reputation for quality and service.
The company continued to grow and became Amezdroz and Sons in 1984. A number of strategic acquisitions led to a rapid expansion in the early 2000s resulting in all of the Group's trucks being re-branded to Wettenhalls in 2004.
Today, the Amezdroz family continues its proud ownership of Wettenhalls with the fourth generation of the family actively engaged in the operating of the business.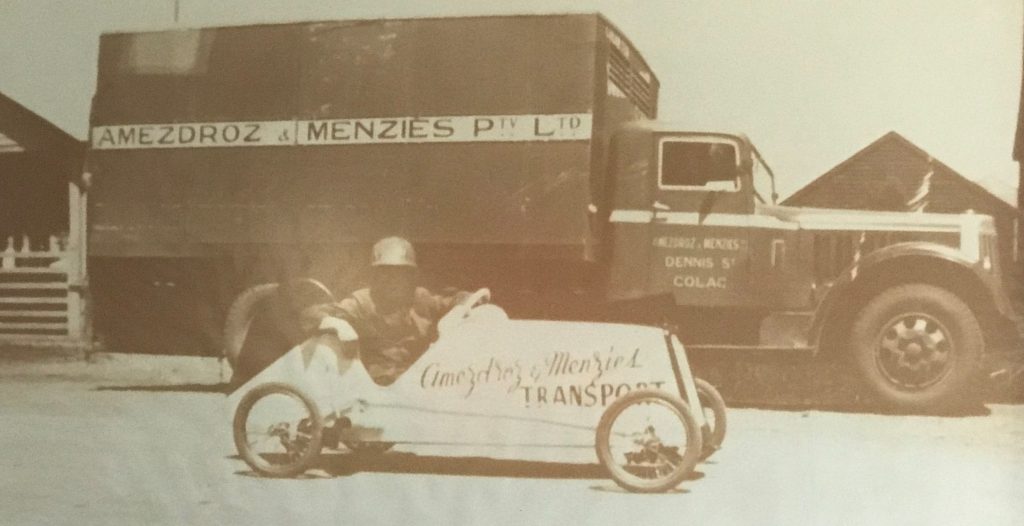 We look back at where we started to see how far we've come.
1925
Reg Amezdroz, Bulla's cream tester and boiler attendant at the time, purchased a truck and went into the transport business.
He carted cream from Bulla's Colac factory to Bulla's Melbourne base. His first load was 520 litres of cream which was kept cool with ice.
Reg joined with Rodney Menzies to form Amezdroz and Menzies.
The business ran 4 trucks, servicing the ever-expanding Bulla dairy Foods
1935
1947
Fred and Bill Amezdroz joined the company with 10 trucks now running.
Their services expanded as they began carting bricks, farm machinery, timber, groceries and hardware as well as dairy.
The first Kenworth prime mover joined the fleet
1963
The company's first refrigerated van was purchased
1983
1967
Brett Amezdroz joined the business and Amezdroz and Menzies became Amezdroz and Son.
1993
The company begins a formalised defensive driver program – the start of our rigorous training program
1998
Amezdroz & Son purchased Colac based operator M&F Brunt Pty Ltd.
1997
First B Double combination enters service
Amezdroz and Son purchased WETTENHALLS (7 trucks) and started operating from a depot in Bayswater.
This brought the fleet to approximately 30 trucks, and expanded services to all states.
2003
The business expanded to Geelong with the purchase of Geelong Liquor Warehouse.
2004
Amezdroz & Son Pty Ltd rebranded all divisions to WETTENHALLS.
2005
WETTENHALLS further expanded with the acquisition of Renfrey's Transport in Geelong.
2007
The business acquired Wildan Transport and our Container Services offering began.
WETTENHALLS purchased Rodon Transport launching our Construction Services offering.
2014
2016
Bill Stocks Transport joins WETTENHALLS and becomes part of the Construction Services.
The first PBS vehicle commenced service with a 28 pallet capacity quad axle trailer combination.
2018
AUSPRO Logistics and Imperial Cranes joins WETTENHALLS.
WETTENHALLS has begun a strong relationship with Cleanaway.
2019
Ryans Freight joins WETTENHALLS and is merged with AUSPRO Logistics to become WETTENHALLS REGIONAL EXPRESS.
Allied Transport Services joins WETTENHALLS and becomes Heavy Haulage and Specialised Services.
Start a lasting partnership.
Find out how WETTENHALLS can help you to grow your business using efficient and advanced services.
We've delivered for many of Australia's leading brands over the years – make yours next.
We've carried some of Australia's most trusted brands over the years – let's make your company next.